Spring Container Planting Seminars 2019
Bring your own planters and learn how to create beautiful combinations that will suit your style. With knowledgeable staff and over 2000 varieties of container plants, your containers will never look better.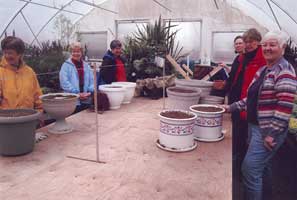 These courses are offered at convenient times through the month of April, and last approximately 3 hours. Bring your own containers, hanging baskets or window boxes or buy one from our large selection.
The fee is $5.00 per person plus the cost of the soil and the plant material. Participants will need to bring two containers at least 14 inch in diameter. Empty of old soil and with good drainage holes. Dress in layers and wear comfortable footwear. A small notebook is useful to make notes. Other handy items to bring may be pictures of where the container sits or hangs, or pictures of the container in past years. You Do Not require any garden tools of any sort. Tea and bottled water are available for purchase in the gift shop.
Register by phone (403) 933-4814.

Course Dates:

For your convenience we offer a morning & afternoon course time.

Morning

N/A

Afternoon

1 p.m. - 4 p.m.

Afternoon

1 p.m. - 4 p.m.

Afternoon

1 p.m. - 4 p.m.

Morning

9 a.m. - 12 p.m.

Afternoon

1 p.m. - 4 p.m.

Afternoon

1 p.m. - 4 p.m.